Medical Marketing is just like marketing in any industry out there – it requires a well thought out strategy that focuses on building trust and providing value to your customers while showcasing your expertise and services at the same time.
As more healthcare providers, hospitals and professionals provide accessible services online such as teleconsultation, consumers do not feel the need to visit the nearest option to them anymore. They can choose a healthcare provider that meets or exceeds their expectations. Therefore, many healthcare providers have to keep up with the changing consumer expectations and evolve to stay competitive.
That being said, here are a few strategies that you can adopt if you are a healthcare provider or professional.
Create a user-friendly website
Building a user-friendly website is incredibly important as it is one of the first touchpoints that your customer has with your brand. Potential customers should be able to navigate your website with ease and find the information they are looking for quickly. Focus on the UX design of the website and optimise it to be intuitive, interactive for users to find what they are looking for while maintaining a professional image.
If you are looking to build a website as a healthcare provider, here are some tips for you:
Optimise your website for mobile users
Refrain from using jargons
Add a search function
Create a direct channel for enquiries eg. whatsapp
Optimise Your Services for Search Engines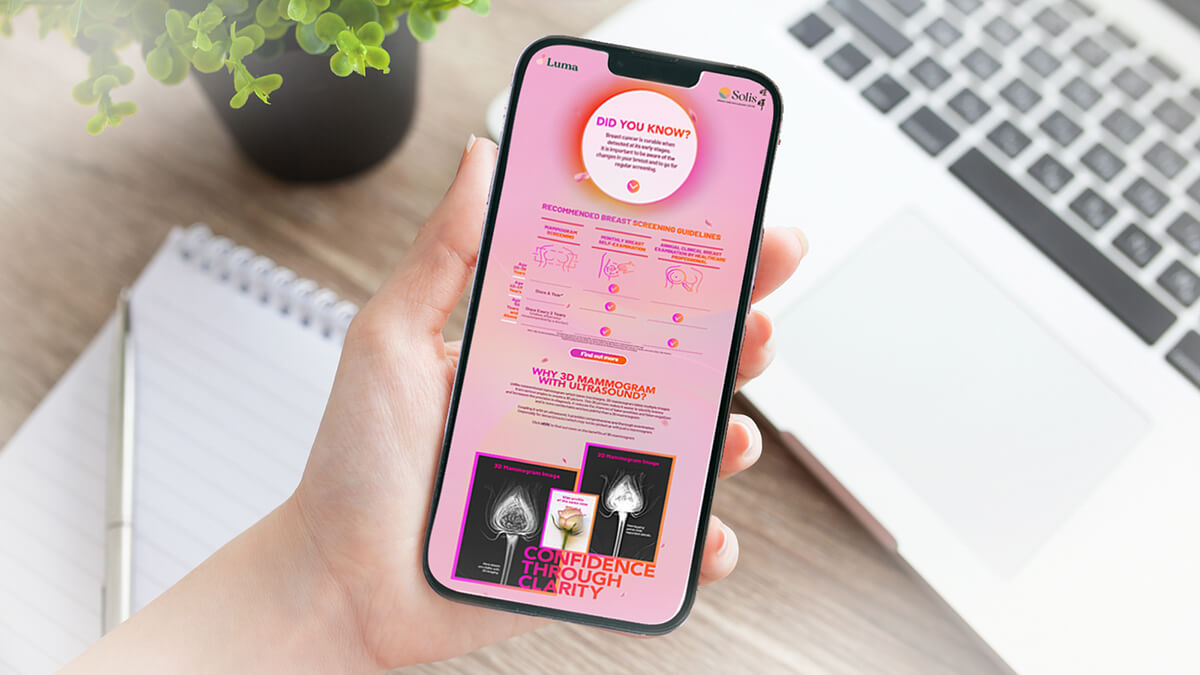 This means that you have to find out what consumers are searching for online (eg. are they searching for suspected symptoms and finding solutions for themselves or their loved ones?) so you can do keyword research and target those keywords with your services. Keyword research allows you to find out which keywords are more difficult to rank, what your competitors are using and other information to help in your optimisation. Here are a few tools that can help you get started:
Google Keyword Planner
Keyword Tool
SEMrush
See how Solis, a breast care center, created a website to build awareness and drive conversions on Breast Cancer Awareness Month.
Use Google Ads to Promote Campaigns
Another way to gain brand awareness is by using Google Ads to reach your target audience when they are searching for healthcare providers/ professionals online. By listing your business on Google Search and Maps, it can help you reach out to the masses, drive traffic to your website and increase store visits.
In a way, Google Ads gives your brand many ways to be seen. Your campaign/ website can show up on search, video, display ads and even mobile apps. You can even track your ads performance, adjust your budget and optimise ads to maximise conversions.
Use Social Media
Social Media is one of the tools that you can use to share relevant content and engage with your audience. It is a more casual way of interacting with your audience and letting them know about your medical services. Choosing which platform to use is important as you want to reach your target audience and customise the message/ content that you are sending across.
However, there are regulations set in place for medical posts on social media so depending on the country you are in, it's better to check the dos and don'ts before creating your posts. It's also important to align your visuals with ad objectives so that it follows the regulations too. Also, do familarise yourselves with the platform's regulations eg. Facebook has a 20% text rule on their visuals so do keep in mind when you are creating the post assets.
Blogging
Blogs may not be the first thing you think of when it comes to marketing for your brand. However, it is a great way to let potential customers gain more knowledge on your services! Not only that, it also helps your SEO and drive traffic to your website.
Medical and pharmaceutical brands face limitations in using before and after results as a way to promote their services, hence they usually have interviews with media publications where you can read their stories/ expert opinions.
When you have a substantial presence online, Google will recognise that you are a reliable source of information when people search for your services online.
Conclusion
While many digital marketing strategies can be used for Medical Marketing, it is important to know and understand the consumer journey well so that you can reach out and connect with them successfully. Many times, it's good to be understanding and empathetic to their needs and wants so that they feel comfortable with you. If you need our expertise, we are just a phone call away!