Yeo's wished to ride out of the growth disruption with their learnings from last year's successful NDP association. With all the disruption brought by rising Covid-19 cases, Yeo's needed to bring joy back to the celebration this year to refresh its engagement with the target audiences and create consumption growth. 
Thus, we came up with the strategy "celebrating goodness to feel good" which closes the gap between Yeo's and its consumers. "Celebrate NDP with YEO's", a dual pronged strategy that increases top of mind awareness to reinforce a new consumption occasion and increases engagement to resonate with the consumers.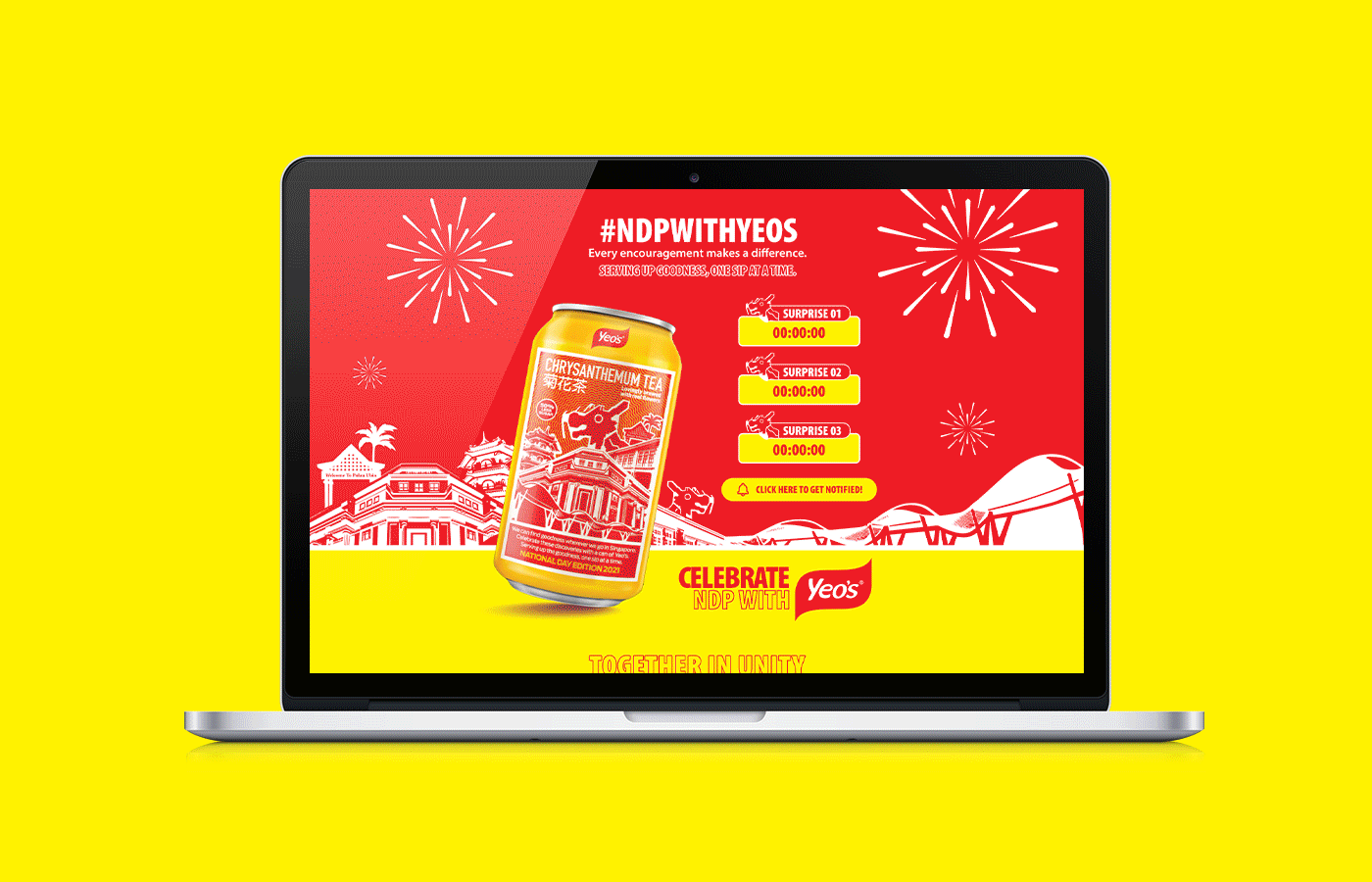 We kicked off the campaign with a teaser post on social media, that was accompanied with a microsite housing all communication for #NDPWithYeos campaign, to garner buzz and talkabililty. With the microsite, the audience were able to sign up for notifications for every surprise launch at different phases of the campaign.
In light of the pandemic, we found out that Singaporeans are more empathetic to social causes, and group behaviour is observed to trigger empathy into action; supporting the local community. Hence, there is a common motivation underlying between the consumers, NDP and Yeo's, it is to celebrate goodness to feel good.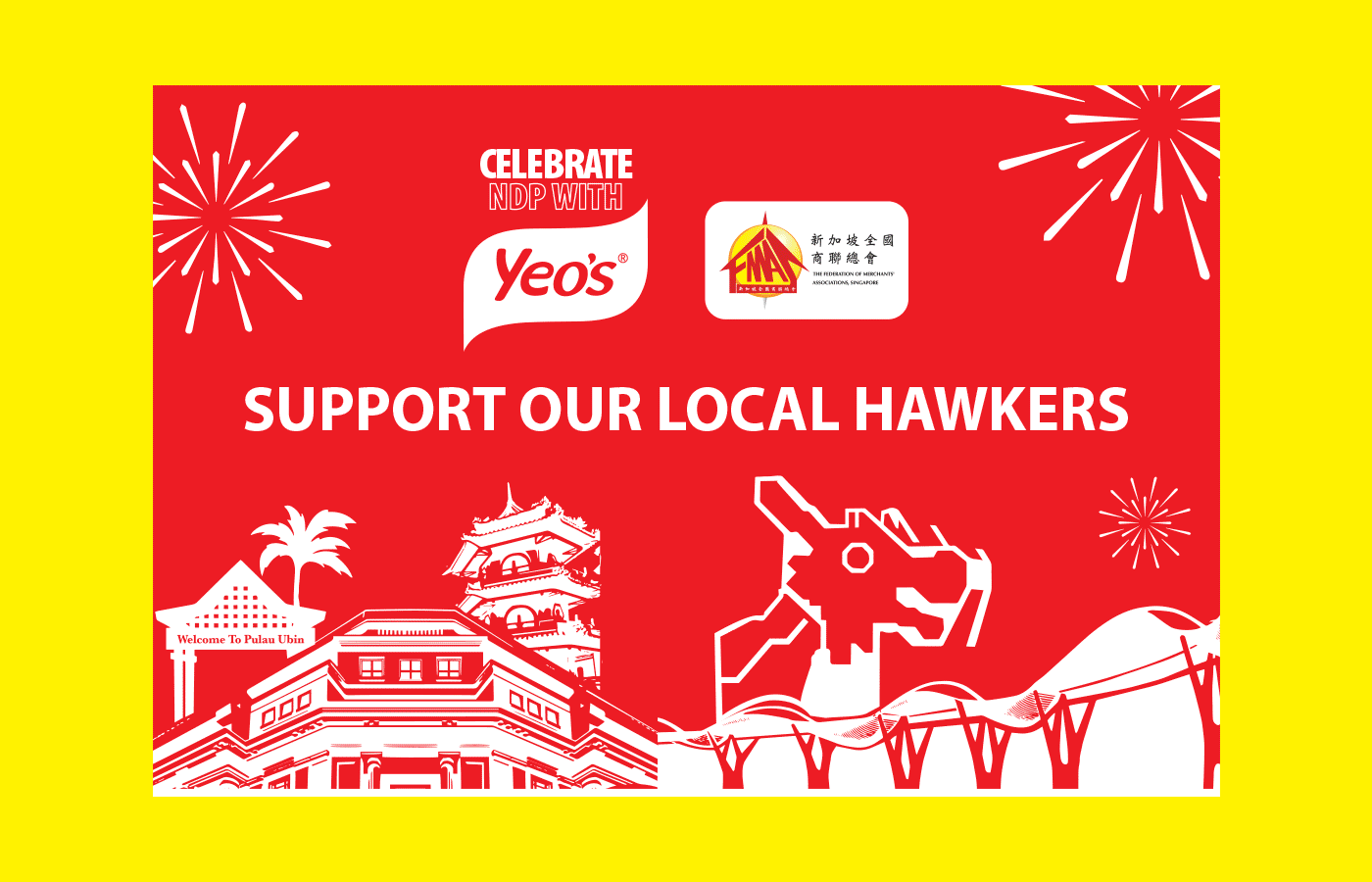 In support of the local hawkers who took the hardest hit in the strict Safe Management Measures, we partnered with The Federation of Merchants' Associations, Singapore (FMAS) and supported over 1,900 hawkers by giving out the Yeo's special edition cans.  
Yeo's created 2 special edition cans with their newly launched Chrysanthemum Tea variant. One of which was an exclusive can design with FairPrice to show appreciation to the #UnsungHeroes, our nation's essential workers from hawkers, to hospital nurses to taxi drivers. As an appreciation, Yeo's donated over 240,000 cans to Grab Riders, Hospitals, Comfort, Jurong Health, NHG and Central CDC. The cans were given out with every consumer's purchase, allowing our target audience to pen down their encouragement at the back of the can to share feel good emotions on social media. 
In collaboration with renowned local musicians from an acapella group, MICAPPELLA, and artists, Benjamin Keng, we created a Yeo's NDP Mash-up (an audio mash-up with 4 popular NDP patriotic songs) and hosted a IG livestream to inspire the feel good emotions amongst Singaporeans. The mash-up was integrated into an AR Filter to drive engagements with the audience digitally, encouraging and enabling them to share the feel good emotions. Together with the launch of the filters, we launched a giveaway in a social media post 
Leading by example to show our support to those impacted during this pandemic, the pay it forward movement resonated with Singaporeans, increased Yeo's engagement with their consumers, which in turn generated more content to inspire the feel good emotions in the digital space.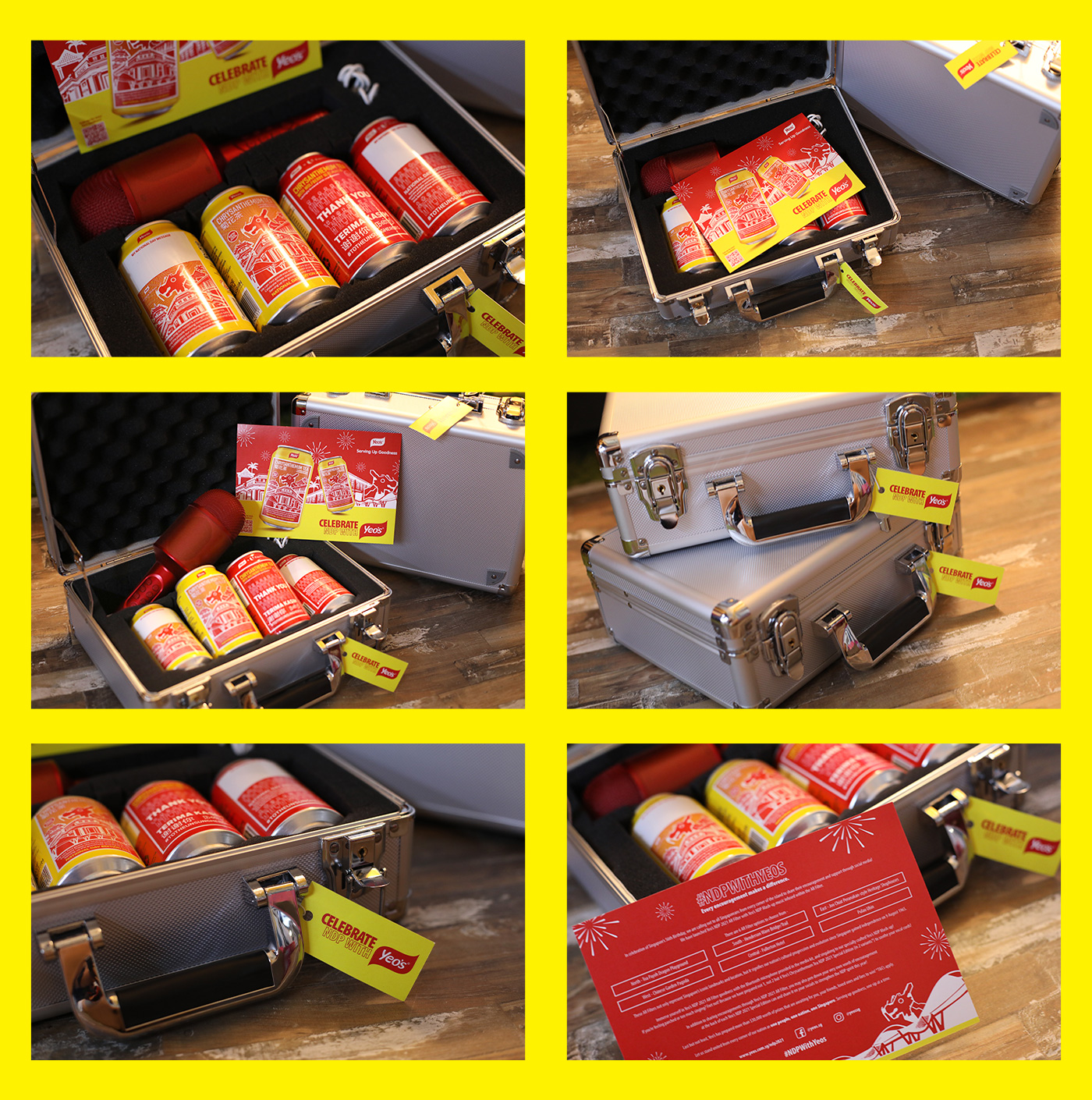 To further amplify the campaign's objective- sharing of encouragements on social media, we prepared a one-of-a-kind singalong media kit for influencers and celebrities.  With a karaoke media kit concept that not only consists of a bluetooth karaoke mic, we included 2 special edition cans in 2 variants of the all-time favorite Yeo's Chrysanthemum Tea in less sugar and with Wolfberry to soothe their vocal cords if they sang too much!
Overall, this activation created over 13 million impressions and 5x more engagement rate. The brand converted the extended reach and high engagement to growth allowing them to maintain their leadership position within the category and drive the growth of their category.