As a household name, Singaporeans across various generations are familiar with Yeo's brand. This year, Yeo's wanted to drive top of mind in consumer's preference over their competitors during Chinese New Year 2022. In addition, the brand aims to build rapport with the younger consumer group, to encourage them to choose and purchase Yeo's drinks.
As large celebrations with extended family members faced COVID restrictions for the past few years, we discovered that most families preferred small gatherings as they were able to spend more meaningful and quality time together. When it comes to the pre-CNY festival, the younger generations, however, do not appreciate the value behind the preparation process while the older generations would always be busy with preparations before the actual day of CNY. Wanting to bridge the generations in the family together and encourage the younger generations to get involved in the 'traditions' of preparations for CNY, Yeo's approached Mashwire for an integrated campaign. 
The campaign was broken down to three phases: Attract, Engage and Bond. To create chatter before the start of CNY, we collaborated with local bakery 'Butter Studio' to create DIY Limited Edition Chrysanthemum Tea-infused cookie kits. These cookie kits were then dropped to KOLs via blindseeding, which helped to generate awareness of these Limited-Edition kits to their audience. Next was to engage the audiences and bring focus on the traditional preparations of CNY through various activations to draw relatability to our target audience. Firstly, we introduced a series of contest mechanics to let our target audience decide the name of this Limited Edition Chrysanthemum Tea-infused cookie. On top of that, we curated our DIY "Make-Your-Own-Cookie" recipe for the audience to better ease in during CNY preparations.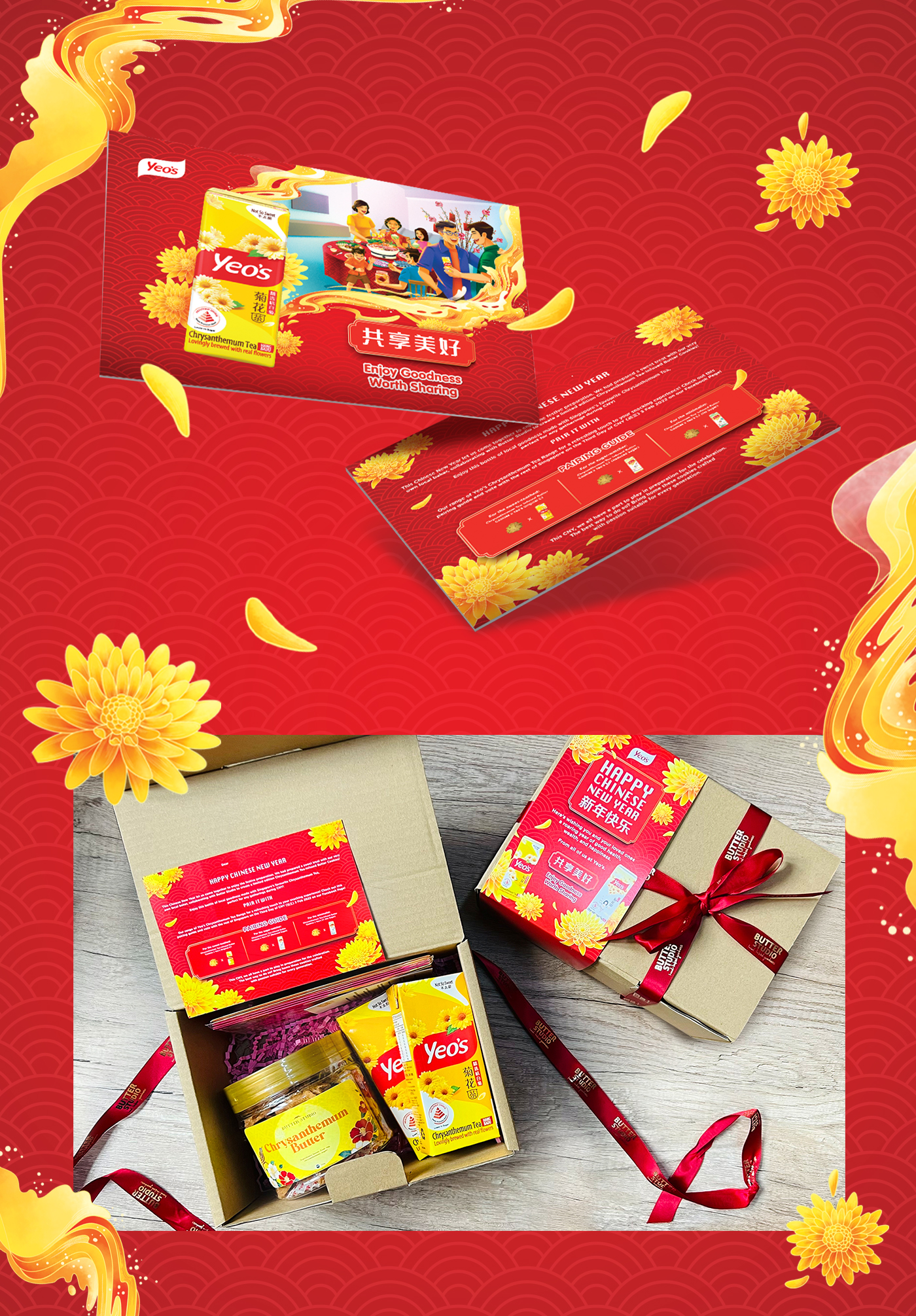 During CNY, we wanted to strengthen the message of getting the younger generations involved with the elders, hence we engaged with younger local Tze Char chefs from Tang Kay Kee Fish Head Beehoon and Jiao Cai Hotplate BBQ to take on the challenge of recreating their own unique local infused dishes with Yeo's Chrysanthemum Tea. This collaboration was aimed to ease preparation processes for CNY by focusing on the benefits of using Chrysanthemum Tea in traditional Chinese dishes. Recipes of the dishes were shared on social media with the audience to encourage them to try it at home or visit the hawker stores to try out this CNY special dish during the festive season.
At the end of the campaign, we held a giveaway contest for our audience to share their favourite CNY activities and food pairing moments with us using the hashtag #SpotYeos on social media, to show Yeo's as not just an average household drink, but one that is complementary with CNY food and snacks.
Overall, Yeo's managed to achieve an increase in online chatter of their products as well as a substantial amount of reach and engagement through a combination of User-Generated Content (UGC) and giveaway mechanics. 
Keen on planning an integrated festive campaign for your brand? Reach out to us for a chat today!