#HTWOODareToDream – Fitness Studio Collaboration and Product Sponsorship
In order to amplify the awareness of H-TWO-O rebranding campaign, it is crucial to understand the current pain-points of the brand's target audience. With the new H-Two-O rebranding, - it exhibits not only the functional benefit of quick hydration, but also the emotional support of H-Two-O fuels your beliefs to #DaretoDream.
It may seem as though the pandemic has wreaked havoc and we were disrupted with a surreal reset button. We have hit the pause button on our plans in totality one way or another, and some of us were struggling to find the right footing to adapt to the 'new' normal. Regardless of our circumstances, we will emerge stronger on the other side. Dare to Dream, with H-Two-O.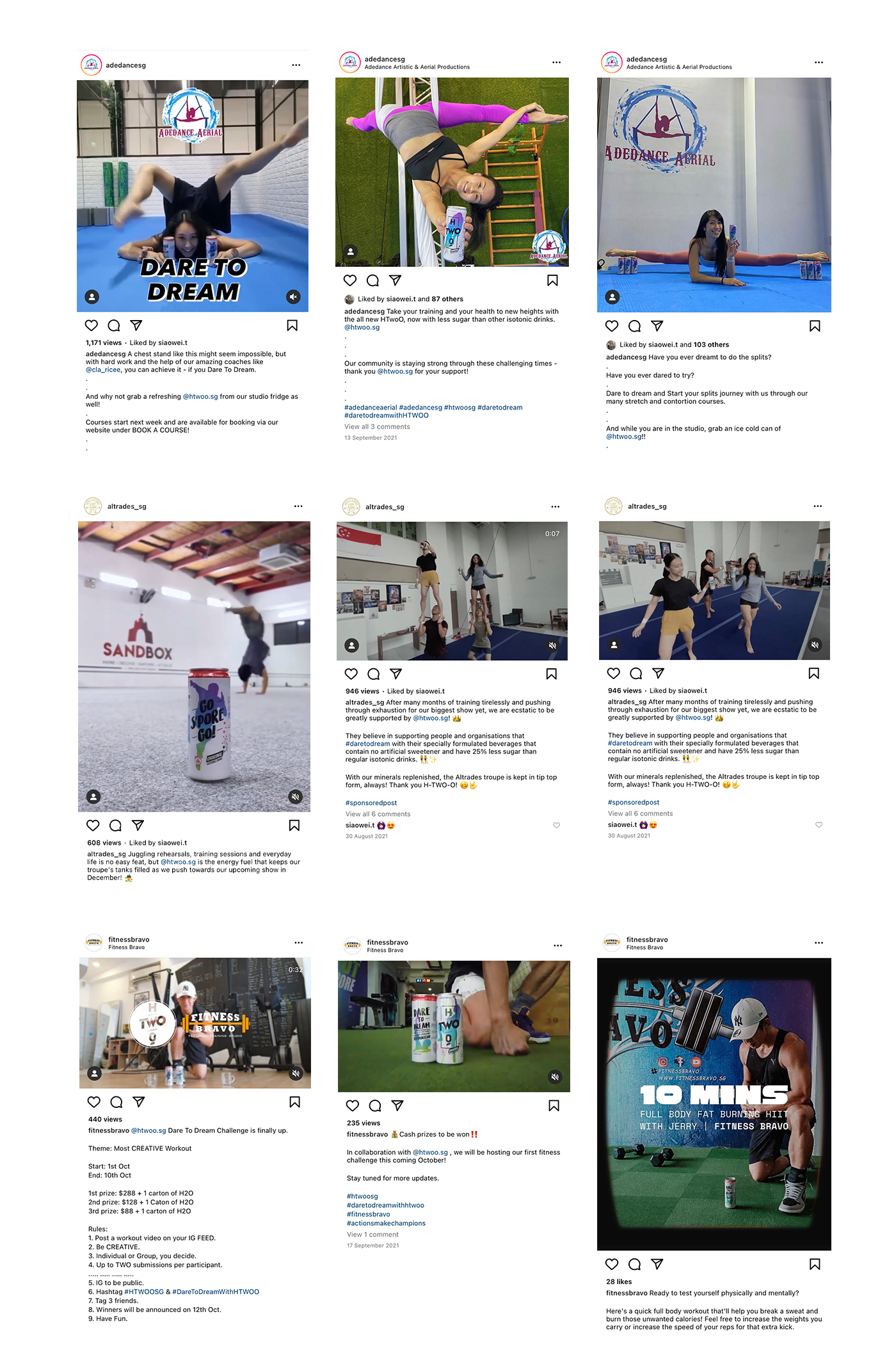 To spread the awareness of the H-TWO-O rebranding, we reached out to several local fitness studios for collaboration and product sponsorship. With the non-mainstream sports partnerships with local fitness studios such as Fitness Bravo, R10T and Grityard, we also reached out to Aerial Art studios, Adedance Artistic & Aerial Productions as well Singapore's first acrobatic circus company, Circus of Altrades.
With the sponsorship and collaboration, we devised a cross-marketing opportunity to help spread inspirational and aspirational moments where H-TWO-O fuels your beliefs to #DaretoDream. This helps raise the brand and product awareness through students who attend the studios' classes, which they will get to enjoy a can of refreshing H-TWO-O after their session.
On top of this, it created an opportunity for User Generated Content (UGC) if the users tag the brand which increases word-of-mouth, promoting advocacy. The product sponsorship has added value to the brand where they have gained earned media from the community and studios. Ultimately, this activation aided in on-ground trials which eventually lead to brand and product consideration and their purchase decision in the future.
February 2022